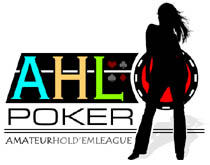 The Amateur Hold'em League (AHL) was founded with the players in mind. The founders of the AHL are all Hold'em players and have played in several amateur leagues around the country. We believe that we have developed a system of play that is by far the most beneficial to any player whether it is their first time or they are a veteran. We play using standard Texas Hold'em rules, giving our members a chance to learn the game the correct way, from how to bet to what position is. We hold ourselves to a high standard of customer satisfaction, always providing a fun, safe, adult atmosphere that you can feel comfortable with. Our tournament directors are always fun, friendly and helpful and are happy to assist you if you have a question or request, so please don't hesitate to ask. The founders of AHL are a constant part of day to day operations and often play (unannounced) in venue tournaments to make sure that the experience you have is an enjoyable one every time you play. We offer our members the ability to see statistics and track their progress anytime with our easy-to-use online system.
If you're not satisfied we're not satisfied.
So if you haven't played with the AHL, give us a try and if your experience is anything short of great, we want to hear about it.